Photo Courtesy: Bowdoin Su
By Ross Forman
FLORENCE, ITALY - Well, it's over and, yes, I completed my first 26.2-mile marathon, held here on Sunday, Nov. 25.
I couldn't be happier.
And that's just the start of emotions I experienced during the five-hour journey along the mostly flat course that was filled with cobblestone streets.
Finishing the marathon brought pride, joy and honor, not to mention pain and a few tears.
I ran the first 90 minutes with Tim, a 45-year-old from San Francisco who I met and first ranwith in California in September. We went at a four- or five-to-one ratio, mixing running and walking. Tim then broke away, opting to jog the rest of the race as opposed to the run-walk training method that we learned during the six-months of training with the National AIDS Marathon Training Program (NAMTP).
At the two-hour mark, the outside part of my left knee started aching, forcing me to slow down to ease the pain. About two-and-a-half hours in, the knee was really hurting, forcing me, at times, to walk a little longer than I wanted to.
The rest of the marathon, I was slowed significantly by the injured knee, even though I had iced daily leading into the run.
Others, thus, passed me and I struggled. But no way was I gonna stop. Quitting was not an option. I trained too hard, for too long and too many supported me and the cause to say, 'I'm done.'
I ran the second half of the race chatting at times with an Austrian couple, a girl from Georgia and others, including many of the 250 NAMTP runners who came herefrom Chicago, Los Angeles and San Francisco.
I saw Michelle, a Chicagoan in her 20s who I trained with extensively over the summer, struggling even more than me with, oh, about 10 miles to go. As I approached her, clearly seeing she was dealing with legs woes, I saw a man approach her from the right. As I later learned, Michelle's near-60-year-old angel spoke barely any English, yet was driven to make sure she finished. Michelle cried as she later told the story; I was honored and amazed I saw it materialize right before my eyes.
I saw Coach Katie with about four miles to go and that brought a huge smile to my face. She ran with me for a while, maybe 10 minutes, offering encouragement and jokes the whole way. She eventually broke away to ran back to other NAMTP runners behind me, but not before reminding me that, when – not if, but when - I finish, she'll have Rice Krispie treats waiting for me. And she did. We toasted the marathon that night with red wine and a Rice Krispie treat apiece. That was awesome!
When Katie left, I knew I was on the home stretch, that the 42-kilometers was almost done. Tears were swelling, knowing I was about to do what so few others worldwide attempt, let alone accomplish. I thought about those who have supported and encouraged me since day one of my marathon journey, including Hector, Dell, Mandy, Lodi, Kevin Nash, Jeff Jarrett and the rest of the TotalNonstop Action (TNA) Wrestling family.
With about half-a-mile to go, I caught up to Dan, a Chicago NAMTP runner in his 20s who also was struggling. I told him we had to kick it in with so little to go, that we couldn't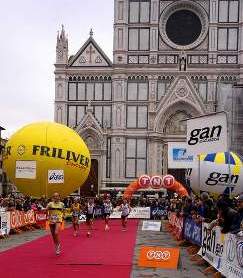 walk anymore, that we had to run the rest of the way home, first passing fans on our left, including many who we knew and cheered for us by name, then a throng of fans on both sides as we approached the finish line – while running on a red carpet, fittingly. It was an awesome feeling.
We crossed the finish line together. Actually, I crossed a second before Dan, on purpose, which he and I joked about later since he noticed. I got the medal draped around my neck, then a hug from a NAMTP runner from Los Angeles who, well, I don't even know her name. But we had run together for a little with about 10 miles to go and though I made a joke about how Chicago is better than Los Angeles (which it is), I told her that, I sure hope she still meets me at the finish line with a hug. More motivation, I thought … and it was so cool that she was the first one who hugged me. I actually was shocked she remembered, but boy was it cool to see her.
All of my close friends and training partners finished the marathon,including Chuck, Rob, Dru, Bobby,Carrie, Michelle, Robert, Kevin, Janelle, Ray and, actually, everyone I can think of.
Six months ago, I never in my wildest dreams thought I could finish a marathon. Heck, I thought 10 miles would be an impossible task, let alone 26.2.
Now, though, my thinking is, where is my second marathon gonna be? The Chicago division of the National AIDS Marathon Training Program supposedly will be training runners for 2008 marathons in Chicago, Honolulu and Amsterdam. So, I guess I better get out the sunscreen and flip-flops for few days in and around Waikiki next December.
Running a marathon? That's not a problem for me.
And it shouldn't be for anyone. As the saying goes … if I can do it, you too can do it.
Oh yeah, the $1 that Chuck promised me lastJune if I finished the marathon, well,he came through and presented it to me that Sunday night in between sips, er,swigs of Italy's finest red wine.
All of the running and the countless hours training was done to raise funds for the AIDS Foundation of Chicago. I'm so grateful to all who sponsored me and, in the process, helped the AIDS Foundation of Chicago. You drove me to finish the marathon and, more important, helped me be Chicago's top fund-raiser, at least as of race day. Donations are still appreciated for the AIDS Foundation of Chicago at: www.firstgiving.com/rossruns
Ross Forman can be reached at: Rossco814@aol.com.